SA SERIES 60° SLANT BED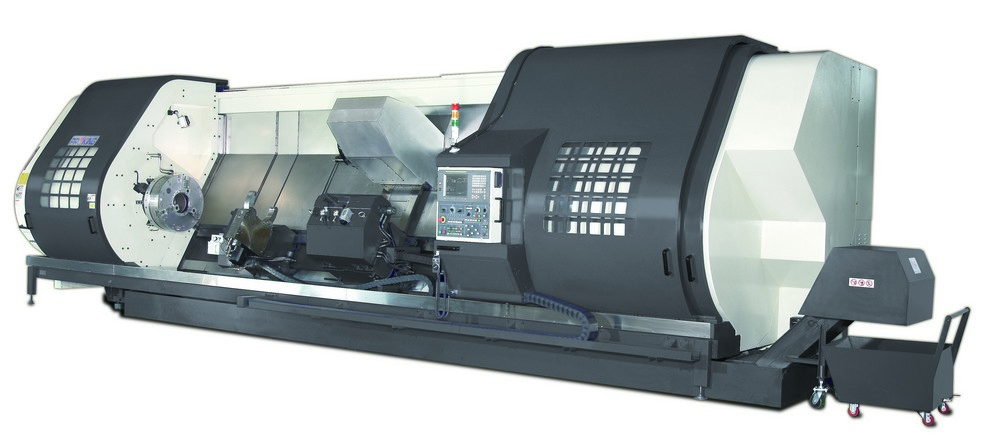 *Standard accessories shall be subject to the quotation

BED WIDTH : 1580mm (62.20")
SA series

SA-40

SA-45

SA-50

Swing over bed
940mm
1,010mm
1,095mm
Swing over cross slide
870mm
940mm
1,025mm
Distance between centers
700mm to 1700mm in 20" increments
2200mm to 5200mm in 40" increments
Spindle nose
A2-11~A2-32
Spindle bore
6"~24"
Spindle motor
Standard-40HP ; Option-50HP
Controller
FANUC / FAGOR / SIEMENS
* One piece bed, 60° slant bed construction ensures maximum stability and convenient chip disposal.
* Alloy steel spindle with opposed taper roller bearings.
* All gears in the headstock are hardened and precisely ground.
* Automatic ranges of spindle speed through pneumatic gear shift.
* Spindle speed ranges are automatically changed by M code.
* Infinitely variable speed are commanded by S code.
* Tool change are commanded by T code.
* Auto lubrication system is equipped for headstock, carriage, and cross-slide.
* Precision tapered roller bearings are equipped on the spindle and the quill.
* The quill is heat treated and precisely ground.
* Internal taper of quill to suit MT#6 dead center or live centre.
* Turcite B anti friction material is applied on cross slide and carriage for reduce friction.
* X and Z axis ballscrews are protected by covers to prevent ingress of swarf / chips and coolant.